The Derby/Shelton Rotary Club celebrated one of its oldest traditions on November 25 when it played host to the senior members of the Derby and Shelton football teams and cheerleading squads at its annual Thanksgiving day Football Luncheon. The event was held at the Russian Lodge in Shelton. The event has been around for decades in one form or another, but has been hosted exclusively by the Rotary Club for more than 25 years.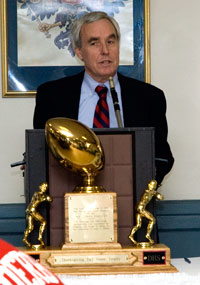 Each year, the Club invites the coaches and senior members of the schools to break bread only days before their heated rivalry on Thanksgiving morning. This year's game will mark the 98th meeting between the cross-river rivals in a series that dates back to either 1904 or 1905 depending on whom you ask. Rotarian Jack Walsh (a former Shelton High School basketball coach!) served as master of ceremonies for the event. He presented some of the conflicting data about the controversial 1904 game which has been recognized by most people in Shelton, but not those in Derby. He noted that a highly unofficial record shows Shelton leading the series by a 48-42 margin with 7 games ending in ties. The game has been played every year since 1922, though inclement weather has sometimes postponed the games from their scheduled Thanksgiving day.
For the first time in years, the game has no bearing on a league championship, a top 10 ranking or a state title. However, that will not diminish the competitiveness or sense of pride that is part of the traditional rivalry. Shelton enters this year's game, which will be played at Shelton's Finn Stadium, with a record of 7-3. Derby is 3-7, but has won 2 of its last 3 games.  Shelton currently has a 5 game winning streak in the series. Derby last won in 2002 by a score of 13-12.
The highlight of the lunch came when Jim Norman and Mike DeFelice, former players at Derby and Shelton High respectively, addressed the audience and shared both their memories of the game and the strong sense of pride that they derived from their participation. Both former players are now coaching the freshmen football teams at their school.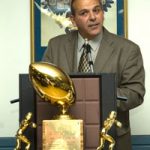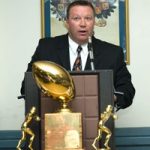 The coaches, Carmen DiCenso of Derby and Jeff Roy of Shelton, summarized their seasons and introduced the senior members of their squads in attendance. The Athletic Directors of both schools, John Niski of Shelton and Joe Orazietti of Derby, were also present and both briefly spoke about the players chosen by their schools to be recognized by the Great American Rivalry program as Hall of Fame members. Orazietti announced that "Buddy" Amendola is the Derby choice and Niski said that Mel Denniger, Shelton's first All State Player and founder of the city's Pop Warner program would be Shelton's choice.
Other dignitaries on hand for this year's luncheon included Mayors Mark Lauretti of Shelton and Anthony Staffieri of Derby. Shelton School Assistant Superintendent Lorraine Rossner was present as was new SHS Headmaster Beth Smith. Derby's new educational leaders, Superintendent Stephen Tracy and DHS Principal Fran Thompson were also in attendance for the first time.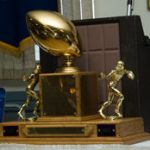 At the conclusion of the game on Thursday, President Linda Hannon-Holmes will present the winning team  with the Rotary Club Trophy. The winner of the game gets to keep possession of the trophy for the year. The first team to win 10 games gains permanent possession of the trophy. This tradition dates back to the 1930's when the first trophy was known as the Shelton Looms Trophy. Shelton currently leads in the race with 8 wins and a tie to Derby's one win. (Shelton won the game 56-8)