Click here to see photos from 2022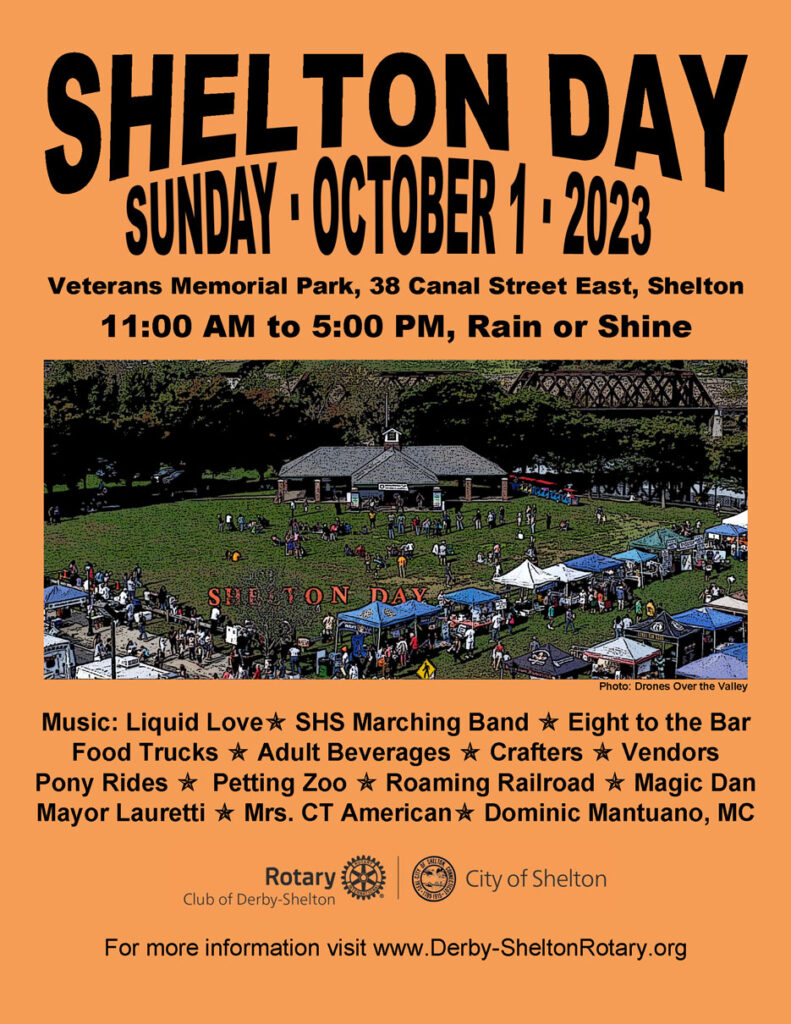 Shelton Day is held on the first Sunday in October along the Riverwalk by the Housatonic River. 
Shelton Day was founded and first organized by the Shelton Business District Association in the mid-1980's as a small street fair along Howe Avenue. Their goal was to bring people into downtown Shelton and introduce them to the business community. Several years ago it was moved to the Riverwalk when the city hosted a Columbus Day parade on Howe Avenue and following the cancellation of the event due to COVID in 2020, it remained on the Riverwalk when it resumed in 2021 for health and safety reasons. It has now grown into a citywide festival and celebration and is sponsored and run by the Derby/Shelton Rotary Club on the first Sunday in October.  All proceeds received from Shelton Day are put back into the community, in the way of Scholarships for High School students in Derby and Shelton as well as assorted other community projects operated by the Club.
Mark your calendar for Shelton Day 2023 – October 1, 2023.
Click here for complete information on reserving a spot as a 2023 vendor or becoming a sponsor. Early bird pricing for vendor spaces ends on July 31!
Some information from for 2022:
Always a multi-faceted popular event, The Derby-Shelton Rotary announces the 38th annual Shelton Day will be held on October 2nd from 11-5.  We are looking for the areas' best to be available. We seek sponsors, handmade vendors, food trucks, businesses, and almost everything in between. Last year's estimated attendance was close to 5000. Proceeds from Shelton Day will benefit the Derby-Shelton Rotary Club which supports the communities of Shelton and Derby through special projects and grants to local organizations.
Message from Chairman Joe Shapiro:
"I am honored to chair the 2022 Shelton Day Committee and I am grateful to Mayor Lauretti and the City of Shelton for providing Veterans Memorial Park, the ideal public space for this event. I look forward to a fun and exciting day on October 2, and I especially look forward to applying all funds raised by this event to worthy local programs," said Joe Shapiro.
Sponsorships:
"I am happy to be the Sponsorship Committee Chairperson for this year's Shelton Day on behalf of the Derby-Shelton Rotary Club. We are looking for both established Shelton businesses as well as businesses that are new to the community to participate in Shelton Day. It's a great opportunity to get involved in the community and also get publicity for your business," said Pat Carey.
The Derby-Shelton Rotary is thankful for our 2022 Shelton Day sponsors including: Carey & Guarrera Real Estate Associates, Curtiss Ryan Honda, Marks of Design Jewelry, Moderno Barber Shop, Wilson Agency/Starkweather & Shepley, Breeze Latin Fusion Cuisine, D'Addario Automotive, Wooster Street Market, Blanchette Sporting Goods, ConnectiCare, The Hair After, Jeff's Appliance, Roma's Importing, Vincent's Italian Restaurant, Drones Over the Valley, Bad Sons Beer Company, Heritage Spice and Jones Winery.
Vendor spaces/booths:
Over 70 vendors will be on hand to sell their wares and promote their programs. From jewelry to crafts, from honey to hemp….. Friends of the Shelton Animal Shelter, Seymour Pink, St. Joseph Church, Harmony on the Sound, Wesley Chapel, Echo Hose Auxiliary, Senior Insurance Consultants, Shelton High School Marching Band, Convention of States, Albertus Magnus College, Gideons International, Derby Centennial Lions Club, Stratford Visiting Nurses Association, ConnectiCare, Ruth's House, Color Street, Gypsy Beads, Sleeping Giant Hemp, Backlit Beauty, Player 2 Artwork, Monogram Me, Avon, J. Beads, Renewal by Anderson, Highland Gems & Accessories, Tranquil Hive Honey, Daisy-Bella, Adventure Escape Manor, Southern Connecticut Chiropractic, SoVita Chiropractic, Sam and Sons, AbCoLinks Jewelry, InnSeason Resorts, Threads by Neves, Mary Kay Beauty, Dream Creations, Paradise Island Small Foods, The Megs Artisans, Bunny Village Development and Child Care Center, FloraCreate, Kyle Kmetz Art, The Bare Slate, and Shelton High School Gael Hawks Robotics Team.
An assortment of foods and fares will be available, including: Streetside Hotdog Cart, Jim's Valley Soft Serve, The Melting Truck, Italian Ices of CT, Little Kernels Kettle Corn, and Krafty Pineapple Creations.
Bad Sons Beer Company will provide locally made Derby beer as well as an assortment of canned mixed drinks. Non-alcoholic drinks will be available. William da Silva, Bad Sons owner said, "We are very excited to be a part of Shelton Day. Being a local brewery, Shelton always comes first to us… even in our logo, since we're from Shelton."
In addition, Shelton's own Jones Winery will supply white and red wine. Please remember to bring your ID if you want to purchase alcoholic beverages. Jones Winery Owner Jamie Jones said, "We are thrilled to be participating in Shelton Day!  We greatly appreciate the support of the community, which makes the growing of our crops possible.  We look forward to having our wines served!"
A limited number of the Shelton Day 2022 t-shirts will be available for purchase at the Rotary Tent.
Attendees are encouraged to visit vendors through a fun game of Bingo that will be available through the Rotary Tent. Prizes and gift cards will be awarded.