Derby-Shelton Rotary Club has announced its 2020 grants. Click here to see the list.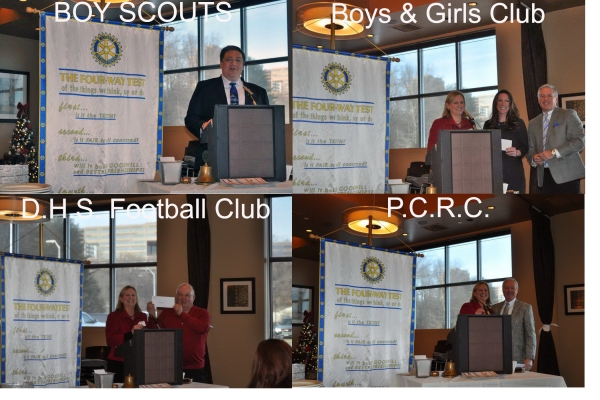 In addition to its scholarship program, the Derby-Shelton Rotary club also has a small grants program for worthwhile activities in Derby and Shelton.
Eligibility
Nonprofit, 501(c)(3) tax-exempt organizations and public agencies that serve or are within the towns of Derby and Shelton, Connecticut are eligible to apply. Requests to fund general operating, specific projects or conferences are considered. Unless it is an emergency, it is the Derby Shelton Rotary Club's policy not to distribute multiple grants to the same organization in the same calendar year.
How to Apply
A letter of Request should be submitted to the Derby Shelton Rotary Club. Applications may be submitted at any time during the year. However, the Board meets  only once a year in May to review applications and make funding decisions.
Applications should include the following:
Address the letter to the current Club President (Judy Gulish)
Include amount requested
Explain in detail the purpose of the request and how it will be accomplished. Tell how it will benefit those impacted in the towns of Derby and Shelton
Optional – an itemized budget
Share your strategy for recognition of the Derby Shelton Rotary Club if awarded a grant

The Derby Shelton Rotary Club appreciates an acknowledgment of our grant support at a level you feel is appropriate relative to the support of other donors. Collateral materials, website, e-newsletters, performance programs, marketing and PR and live mentions might be considered based on the relative amount
Where to send your request and when to apply
Applications may be e-mailed directly to grants@derby-sheltonrotary.org or mailed to:
Derby-Shelton Rotary Club
P.O. Box 224
Shelton, CT 06484
The board of directors of the Derby Shelton Rotary Club meets twice a year to review and distribute funds. Proposals may be submitted at any time, but applications for the first round are due by May 1 and applications for the second round are due by December 1.
You can see one list of 2017 grant recipients here and a second round here.
The 2018-2019 grants can be found here.
The 2020 grants can be found here.