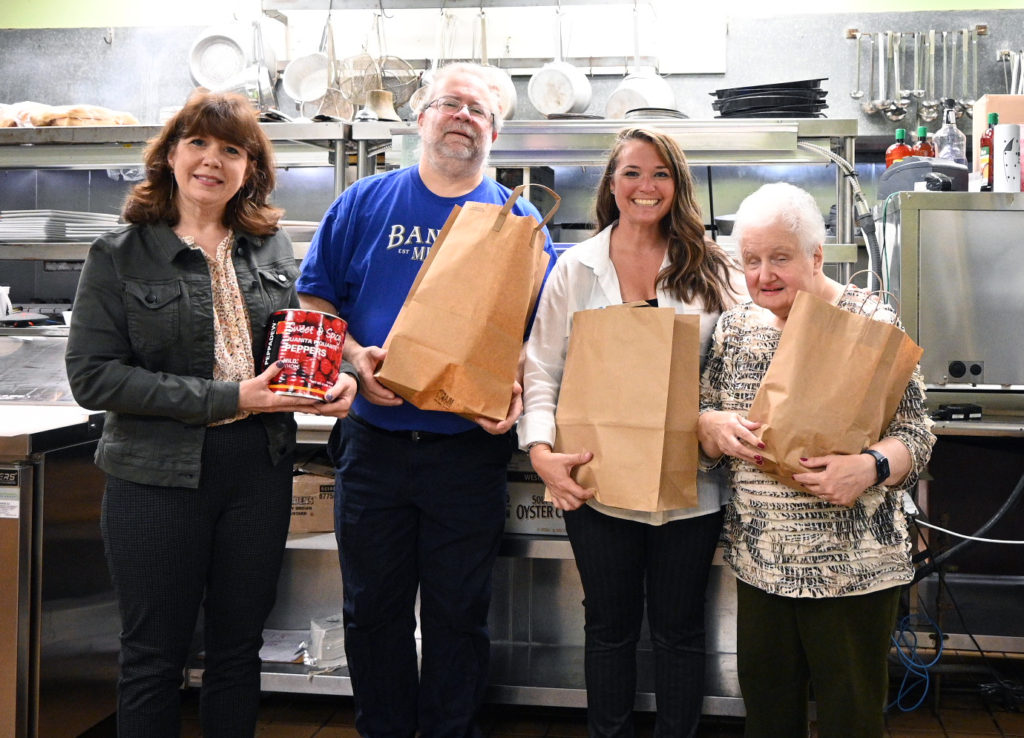 Committee members Rosemary Allen, Joe Shapiro, Julie Blakeman and Betsey Doane are brightening Thanksgiving for others
This Thanksgiving, let's be a special type of kind… Let's #BeCommunityKind!  Last year at this time, your local Derby-Shelton Rotary helped collect over $14,400 which was donated to Spooner House in Shelton and St. Vincent de Paul of the Valley in Derby. We need your help to support them again this year.
Liberty Bank, the Liberty Foundation, and over 40 Rotary Clubs across Connecticut are working hard together to exceed last year's $1 million total donations.  The drive began October 12 and will continue through Saturday, November 20, just before Thanksgiving.
"The Derby-Shelton Rotary began this collaboration in 2016 raising $12,758. Since then, the program has only grown and we are grateful to Liberty Bank for matching our monetary contributions with twenty-five cents on the dollar!  The Derby-Shelton Rotary chooses this Thanksgiving food drive not only for the additional matching contribution but also because all of the funds raised will go directly back into our community. We are encouraging everyone to donate to this drive this year to fill the bare shelves at our food banks," said Julie Blakeman, 2021-2022 President of the Derby-Shelton Rotary.
Every dollar raised stays local to help those in need.  Help by donating at Derby-SheltonRotary.org or at any Liberty Bank Branch.  The closest local branch is at 49 Pershing Drive, Derby. Betsey Doane, President-Elect and Chair of the Derby-Shelton Rotary Liberty Drive Committee this year said, "We are excited to be a part of this effort again this year, especially since there is so much need during the pandemic.  This year's focus is on the need through Thanksgiving and beyond."  Other members of the Committee this year are Judy Gulish, JoAnn Shapiro, and Joe Shapiro.
This year, we are making it easy for community members to join in the effort. Simply click on the link below to help make this a better Thanksgiving for those most in need in Shelton and Derby.