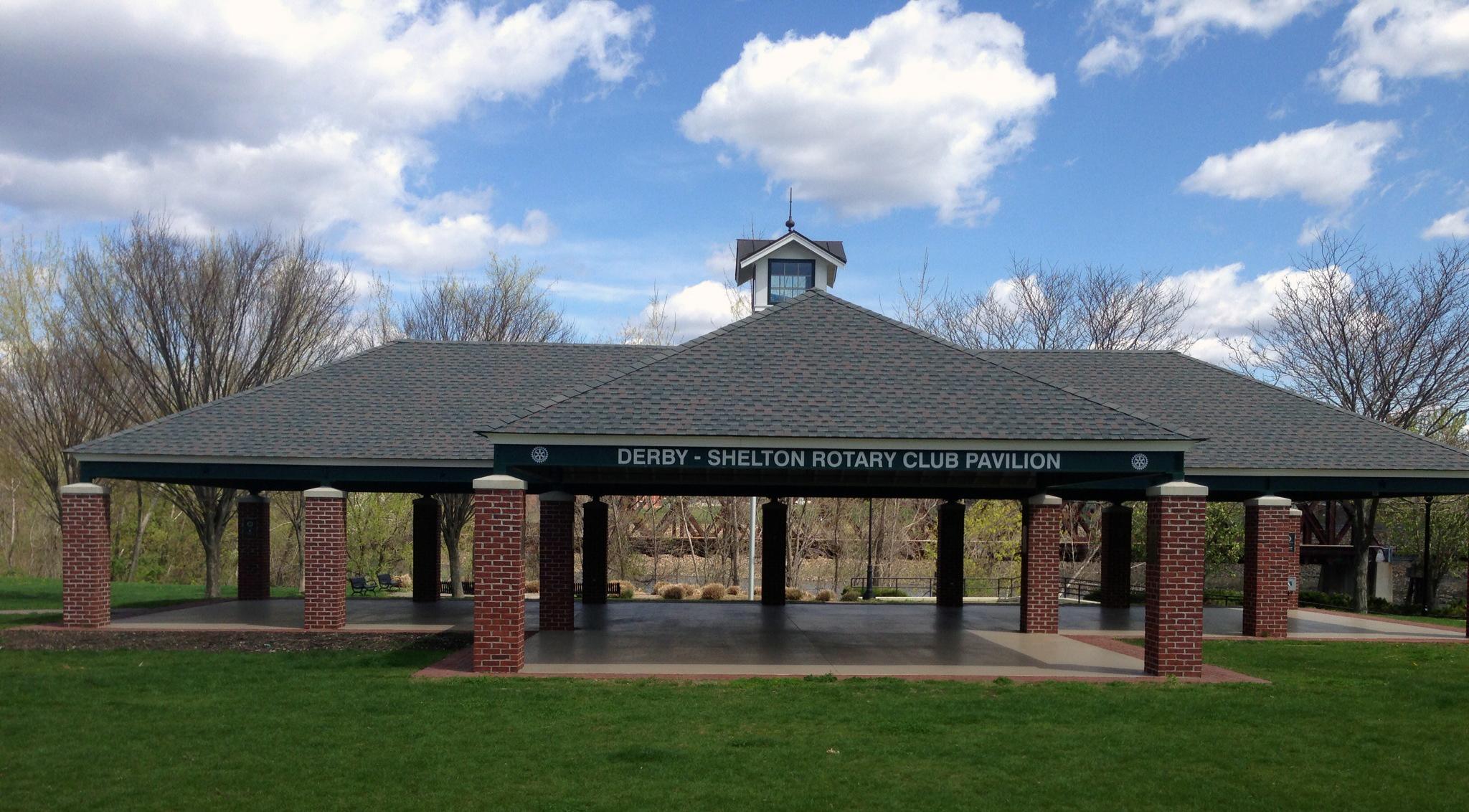 The biggest project ever undertaken by the Derby-Shelton Rotary Club was the building of an incredible pavilion on Veterans Memorial Park adjacent to the Shelton Riverwalk. The site along the Housatonic River was once the heart of Shelton's industrial base. However most of that industry was in decline by the time that Sponge Rubber was destroyed in what was to that point in time, the largest case of industrial arson in U.S. history. Hundreds of jobs were lost in one March night in 1975, and the ruins of the factory were demolished and a dirty, contaminated eyesore left behind.
However, Shelton came up with big plans to clean up and restore the site. Originally the plan was to have light industry on the spot that came to be called "The Slab", but as the cleanup proceeded and a large open field and a beautiful Riverwalk replace The Slab, residents and officials realized they had something special on their hands and that the land might serve a higher purpose as a venue for a wide variety of community activities including sports, carnivals, concerts and much more. The adjacent Farmers Market and Veterans Memorial were also bringing people back to the River. What was missing was a sheltered area on the property to hold special events.
Enter the Derby-Shelton Rotary which conceived the idea of a large pavilion and when they approached city officials including Mayor Mark Lauretti, they found a willing partner. Rotary pledged over $200,000 to the project and the City came up with the balance. The key fund raising for Rotary was the sale of sponsorships for the pillars that would support the large roof. Tate and Associates designed the classic building which included design elements copied from the industrial buildings that had populated the area. On October 29, 2010 a formal groundbreaking was held with many of the pillar sponsors on hand:
The work took some time to complete, but on September 4, 2012 the formal dedication of the pavilion was held and the Pavilion was dedicated in memory of the late and highly respected State Representative Richard Belden:
Two days later Rotarians were back at the Pavilion for their first major post-dedication fund raising event, Octoberfest.