Derby-Shelton Rotarians are mourning the passing of a beloved and respected member who was a community treasure. Al Patuzzi not only served the Club well in a wide variety of capacities down through the years but also gave back to the community in so many different ways as you can see from his obituary below. We are going to miss his smiling face and friendly demeanor that he brought to everyday life. Past President Ernie Luise eulogized Al at the funeral service and her tribute can be seen below after the obituary.
Obituary
Alexander Charles Patuzzi, (Papa), (Great Papa), age 85, of Shelton entered into rest on Monday December 28, 2020 in his home with his loving family by his side, who lovingly cared for him in his final days. He was the devoted husband to the late Marian Tomasko Patuzzi. He was born in Bridgeport on February 24, 1935 son of the late Henry and Mary Bredice Patuzzi and was a resident of Shelton for most of his life.
Al served in the United State Airforce as an employment clerk during the Korean War, receiving the National Defense Service Medal and Good Conduct Medal. After returning from the war, Al started his career at Columbia Records ('57-'62) where he met his wife Marian, he then became a data processing manager at Spear-Newman until 1969 when he took a position in computer sales with Unisys Mainframe Computer Sales where he spent the majority of his career before retiring in 1991. After retirement Al took a position with the Valley Chamber of Commerce which he held until his recent illness.
Al was very active in Valley Community, holding many positions at nonprofit agencies. He was a member and longtime former treasurer of the Derby Shelton Rotary Club, a member of the Greater Valley Chamber of Commerce Executive Committee, Board of Director and Membership Development Committee Chairman, Golf Committee, Education Committee, Program Committee, a member of the Birmingham Group, Board member and former Treasurer of the Julia Day Care School, Valley United Way, Boys and Girls Club. Al was awarded the Sperry-Univac Southern CT Salesman of the year 6 times from 1972 to 1988, 1981 NE Operations Salesman of the Year, 1995 Chamber of Commerce Volunteer of the Year of Environment, 2001 Gold Seal Recipient, 2009 Norman King Parsells Memorial Award, 2010 Platinum Seal Recipient, 2012 Community Chairman's Award.
He is the beloved father of Laura DeAngelo and her husband Frank, III, Janet Patuzzi, Alexander Patuzzi, III, Carolyn Dow and her husband Jeff, proud grandfather of Frank DeAngelo, IV and his wife Rachel, Nicholas DeAngelo and his wife Alicia, Jennarose Madruga and her husband Matthew, Arielle Boothby and her fiancé Kenny Balisciano and Zachary Boothby, loving great grandfather of Harper, Michael, Colton and Thomas DeAngelo and soon to be Hayley Madruga. He is also survived by two sisters Jeanette Rohrbaugh and Leonora Tyszka and several nieces and nephews. He was predeceased by his infant sister Jenny Rose.
A public walk-through visitation for family and friends will be held on Wednesday December 30, 2020 from 4:00 pm to 7:00 pm at the Riverview Funeral Home, 390 River Rd. Shelton. Visitors are required to wear masks and social distance as they walk through, pay their respects and exit without lingering to ensure all guests can come through. A Mass of Christian Burial will be celebrated on Thursday December 31, 2020 at 12:00 noon at St. Joseph Church, 50 Fairmont Place, Shelton. Masks and social distancing of friends and family are required for attendance. Spring Burial will take place at Lawn Cemetery in Shelton at a date and time to be announced. Memorial contributions may be made to Masonicare Home Health and Hospice, 412 Roosevelt Dr., Derby, CT 06418. Online condolences can be offered to the family at www.riverviewfh.com.
Tribute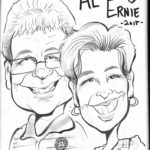 Al was unique.  He was like the wind – that unseen energy that nudged us along.  Ok – sometimes he pushed!  Al pushed to make a difference.
So, when you feel the wind…think of our friend 
Someone on whom we could always depend 
The unseen energy that moved us along 
To make a difference and help others be strong 
Time with Marian and family, lunch with a friend 
A willing hand he always did lend  
Yankee games with his kids, golf with the boys 
His sense of humor for all to enjoy 
His community causes both large and small 
Al found time for one and all 
Birmingham Group, TEAM, Julia Day 
Derby-Shelton Rotary, the Chamber every day 
All of these played a vital part 
In the life of this man with a giving heart 
Al was so many things rolled into one 
He never stopped until the job was done 
Learn from him and do what you can 
To ease the burden of your fellow man 
One person can change a life – bring a smile 
By making the effort to go the extra mile 
And like the wind that keeps on blowing 
Our love for Al will keep on growing.