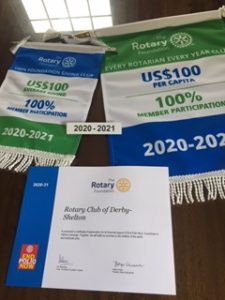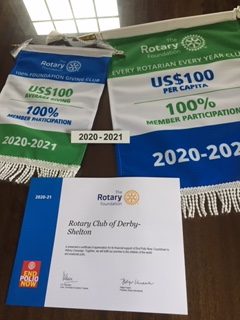 The mission of The Rotary Foundation is to enable members to advance world understanding, goodwill, and peace through the improvement of health, the support of education, the alleviation of poverty and the promotion of peace.  The Foundation is a not-for-profit corporation supported solely by voluntary contributions from Rotary members and friends of the Foundation who share its vision of a better world.  This support is essential to make possible projects, funded with Foundation grants, that bring sustainable improvement to communities in need.
At the 2022 Foundation Dinner of Rotary International District 7980, the Derby-Shelton club was recognized for the financial generosity of all its members.
On behalf of The Rotary Foundation of Rotary International, Colin Gershon, Foundation Chair, presented the club with the following 2020-21 recognitions:
100% TRF Giving
100% Every Rotarian Every Year
Certificate of Appreciation to End Polio Now
Highest Per Capita Giving
Highest Total Contributions to all TRF Funds
The club was also recognized for the members whose commitment to helping to change and save lives through:
Sustainer Circle
Major Donors
Paul Harris Society
Bequest Society
Funds donated by our club to the Annual Fund of TRF are held and invested for three (3) years and at that time, come back to the district for both educational and humanitarian grants.  In the past 3 years, Derby-Shelton has received over $10,000 in grant money, donated by club members, that has been used for:
ECHO Hose EMS – Emergency Operation Room and Simulation Room with mock training scenarios
TEAM, Inc – Early Childhood Program: providing new, warm, winter coats to all the children, and sneakers.
St. Vincent de Paul – COVID Relief – for food insecurity
TEAM, Inc./ Griffin Hospital – food distribution to the Valley Food Banks
Spooner House – COVID 19 Virus Emergency Support
Derby-Shelton Rotary Club is honored to be recognized by the district for giving to The Rotary Foundation. We recognize our commitment to Service Above Self and the impact we are making on our local communities.  We thank our community for the opportunity to serve and make a difference.