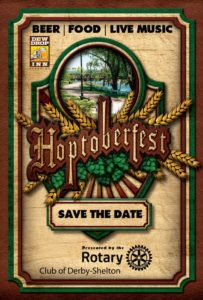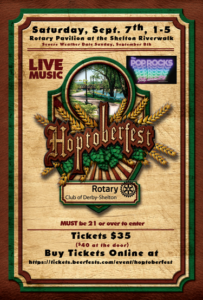 Save Saturday, September 7 for Derby-Shelton Rotary Club's fifth Annual Hoptoberfest. This fun afternoon (1-5 PM) along the Riverwalk in Shelton will be full of beer, food and live music and the proceeds help support the charitable activities of the Club. There will be more details to follow, but tickets are already available and we advise people to buy early before the event sells out. You can purchase tickets on line at https://tickets.beerfests.com/event/hoptoberfest.
If you are interested in being a vendor at Hoptoberfest, click here for more information and an application form.
We also have a number of sponsorship opportunities available. Click here for more information.
Music will be provided by The Pop Rocks.