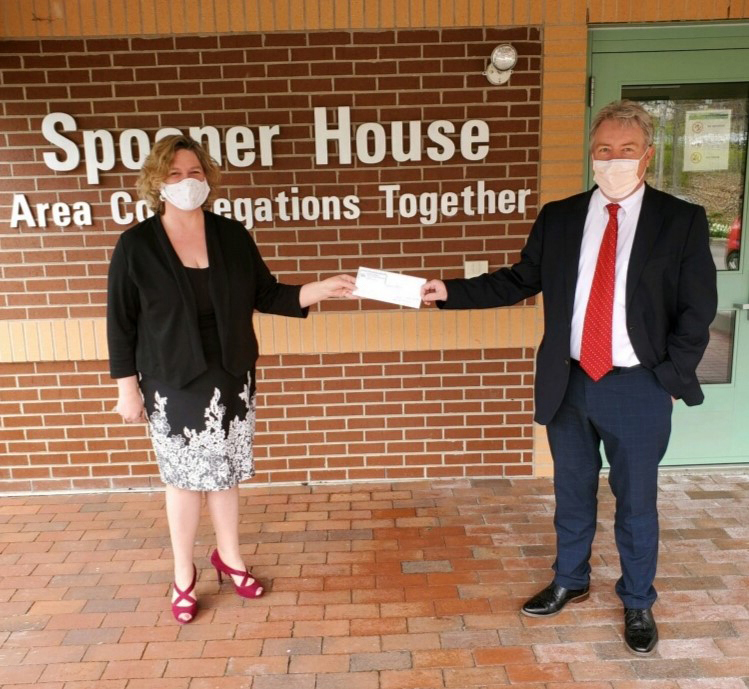 Tom Wilson presenting check to Susan Agamy of Sponer House
Derby-Shelton Rotarians released details of several positive projects that have taken place lately thanks to the work of local Rotarians and Rotary District 7980:
$7,500 Rotary District 7980 grant:
Derby-Shelton Rotary Club, partnering with Seymour/Oxford and Ansonia Rotary Clubs, is the recipient of a $7,500 grant from Rotary District 7980.  In response to the tremendous strain on our local communities, this grant will address food insecurity issues in the Valley as a result of the Covid-19 pandemic.
The Valley Food Pantry Network is the result of the collective work of the Valley Food Security Task Force, of which the five Valley food pantries, Griffin Health Services, CT Food Bank, Valley Health District, United Way, CDC Research & Prevention and other community providers dedicated to addressing food hardship are members. Griffin Health Services launched the Network's commitment to making healthy and fresh foods available to the pantries earlier this year.  This grant will provide additional, nutritious  foods for the communities' food pantries.  Contractor Nation (formerly known as Basement Systems) in Seymour has committed the continued in-kind use of their loading facility and forklift equipment, and negotiations with Bozzuto's food distribution resulted in the ongoing 25% discount because the distribution is to food pantries.
A Valley Rotary Partnership committee comprising of representatives of the three partnering Valley Clubs – Ansonia, Derby-Shelton and Seymour/Oxford – will implement the project and be involved in all aspects of the project.  This will include sorting and equal distribution of food among the five food pantries:
–  Kathleen Samela Memorial Food Bank at Christ Church
– Salvation Army
– St. Vincent DePaul Society
– Area Congregation Together (AKA Spooner House)
– Seymour-Oxford Food Bank
Derby-Shelton Rotary and the partnering clubs recognize the generosity of Rotary District 7980 for making this collaboration and project possible.
Spooner House and St. Vincent DePaul:
As we all are acutely aware, the Covid-19 pandemic has caused a tremendous strain on our local community food bank/pantries/kitchens.  In response to those needs, Derby-Shelton Rotary has taken immediate action to help the food pantries in Derby and Shelton.  Through the generosity of Rotary District 7980, Derby-Shelton is a recipient of a $525 grant to help provide emergency assistance for food insecurity. With this grant money, and additional funds raised by Derby-Shelton Rotarians through fundraising efforts, President Tom Wilson was able to present both Spooner House and St. Vincent DePaul's food pantries with checks for $600 each.  The impact of this grant is critical to those who are recipients and can provide food for their families and children.
United Methodist Homes…PPE – isolation gowns
Fundraising done by the Derby-Shelton Rotary Club allows for us to make grants each year to those in need in our community.  Assessing the needs of a community is critical in determining recipients for any and all grants.  The Covid-19 pandemic has brought to light the dire need for Personal Protection Equipment.  President Tom Wilson presented a check in the amount of $1,200 to United Methodist Homes Executive Director, Ben Schiano, for the purchase of isolation gowns that are needed in their isolation unit.  This will impact the safety of health workers and all who respond to victims of the virus at the facility.
Adzima Funeral Homes…PPE – masks
President Tom Wilson was able to identify a source for PPE through the Rotary District 7980 Governor, Jack Solomon.  Tom was able to secure 1,000 masks for Adzema Funeral Homes, Rotarian Ed Sheehy.  As Rotarians, we do indeed have the ability and passion to make a difference.