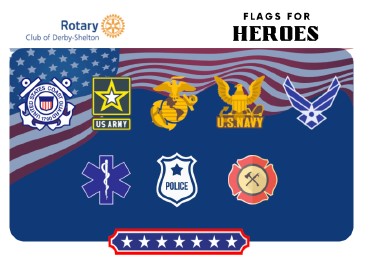 Heroes are people we admire for their courage, outstanding achievements, noble qualities, or the way they practice random acts of kindness. The past year has given us a new appreciation for the heroes in our lives. Click here for the full list of those recognized.
Click here for the video stream on Facebook of the ceremony held on June 11.
Some photos from the ceremony courtesy of Fred Ortoli and Unitas Photography: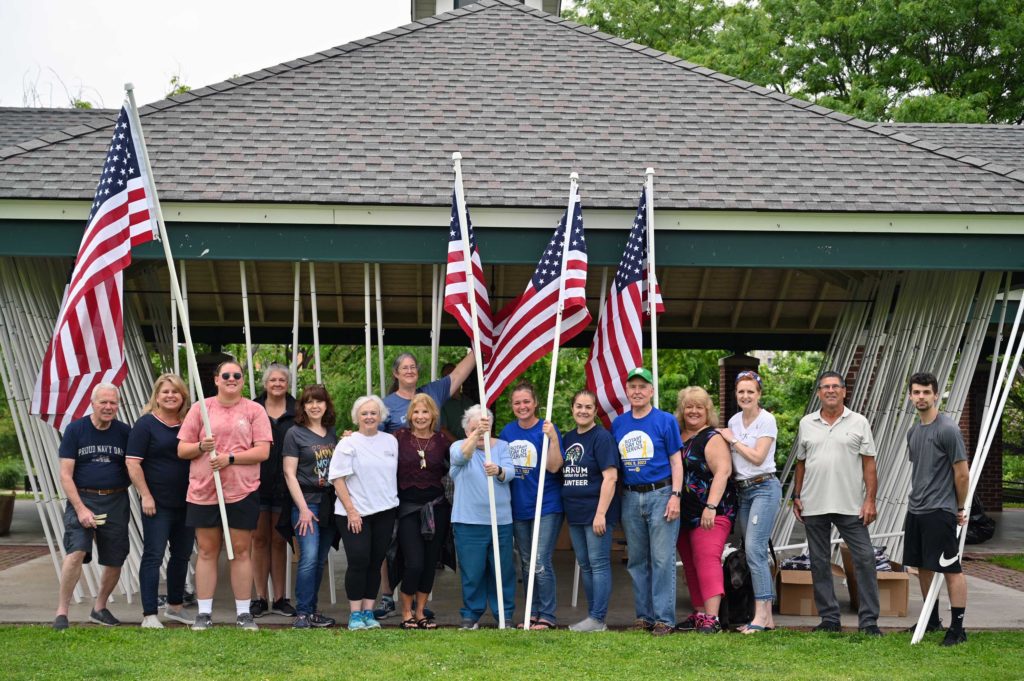 Rotarians assembled the display on Saturday, May 28. It will stay in place until June 15 at 11:00 am.
The Derby-Shelton Rotary Club announces its first annual "Flags for Heroes" event. It will be a stunning visual presentation and a significant way for people in our community to honor their heroes. This year, the Flags for Heroes will be presented from May 28th – June 15th.
Heroes may be veterans, current service members, first responders, teachers, coaches, essential workers, or family members. Heroes may also be single moms or dads, special grandparents, and even neighbors.
"Flags for Heroes is an opportunity to honor those individuals who have served our country, our communities, and our families. It is a thoughtful tribute and a breathtaking sight," said Julie Blakeman, 2021-2022 President of the Derby-Shelton Rotary Club.
Individuals and organizations throughout our community sponsored one or more flags to honor their heroes.  Here is the list:
Friend of Vets Sponsor $1,000.00
Blakeman Construction
Oak Ridge Waste & Recycling
Modern Plastic
Griffin Health
Camputaro and Son Excavating
Minuteman Press
Medal of Honor Sponsor $500.00
D 'Addario Auto Group
The Luise Family
Barnum Benefit Advisors
Stihl Inc.
Valley Community Foundation
Congresswoman, Rosa L. DeLauro
Mark of Design
CT Burn Care foundation
Betsy Ross Sponsor $250.00
The Holmes-Hannon Family
Curtis Ryan Honda
Plaza Diner
AJ Klein Jewelers
Porky's Cafe
Spotted Horse Restaurant
American Legion Post 16
Jones Family Farms
Wiffle Ball Inc
Shelton Police Union
ll Palio Restaurant
Panache Hair Design
"What a wonderful way to show our love for those special people in our lives and to join with 100+ others in such a moving and demonstrative way. I can't wait to see all the flags proudly blowing in the breeze," said Linda Holmes-Hannon, member of the Derby-Shelton Rotary Club.
Proceeds from Flags for Heroes will benefit the Derby-Shelton Rotary Club which supports the community through special projects and grants to local organizations. Donations to the Derby- Shelton Rotary are tax deductible to the full extent of the law.
All sponsors are invited to join the Derby-Shelton Rotary Club for a "Flags for Heroes" ceremony on the Riverwalk on Saturday, June 11th at 11:00am – 1:00pm.