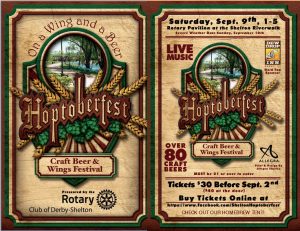 The Derby-Shelton Rotary Club is in the midst of it's busiest time of the year with two major events and a fellowship event. o  On September 9, the popular Hoptoberfest Beer and Wing Festival celebratied it's 5th Annual Festival!  The festival is put on by the Derby-Shelton Rotary Club through The Derby-Shelton Rotary Foundation (a 501c(3) non-profit) and all proceeds raised will go back to the Derby and Shelton Communities based on the needs of our charitable partners. Over the previous four years, we have raised close to $60,000, allowing us to help fund valuable programs. Such as, Sponsor A Kid Program at the Boys and Girls Club in Shelton, to fill the Valley United Way food bank, to support the Parent Child Research Center in Derby, to promote literacy programs in Derby and Shelton Public Schools, along with other worthwhile projects in the Valley. Your help and participation in this event is critical to it's success.
Participants enjoyed wings from different restaurants (including the Dew Drop Inn), over 80 craft beers with unlimited samples and live music. Entry will also include a commemorative tasting cup. For all the latest information and many pictures about Hoptoberfest, visit our Facebook Page.
Rotarians will take a short break from community activities on September 17 by re-establish an old tradition – a trip to Port Jefferson. Members should check with Al Patuzzi for details and to register.
Then it's right back to work as the Rotary Club hosts Shelton Day.
Shelton Day is a very special day in downtown Shelton on the first Sunday in October every year, and 2017 will be no different. Thousands of people will descend on Howe Avenue for another full day of fall fun. We have a separate site for Shelton Day here where you can find complete information including vendor applications..