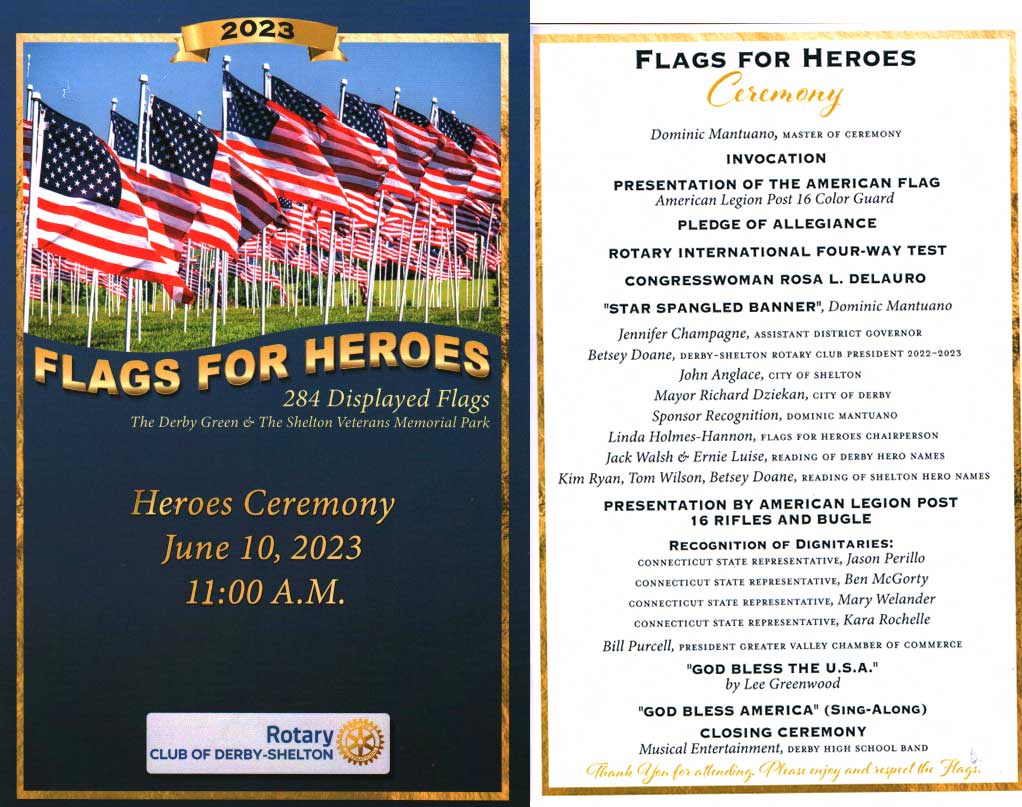 The smoke of the last few days cleared and the weather was spectacular at the Veterans Memorial Park in Shelton as the Derby-Shelton Rotary Club hosted a moving ceremony honoring over 280 Heroes from the local community. Dominic Mantuano served as Master of Ceremony for the second year and wowed the audience with his rendition of the Star Spangled Banner after the presentation of the American Flag by the American Legion Post 16 Color Guard who also performed a Presentation called 16 Rifles and Bugle later in the program. The guests in attendance heard remarks from Rotary Assistant District Governor Jen Champagne, Derby-Shelton Rotary President Betsey Doane, Shelton Alderman John Anglace, Derby Mayor Richard Dzikean, Congresswoman Rosa DeLauro and State Representative Mary Welander.
Committee Chair Linda Holmes-Hannon who came up with the idea for the event also spoke and presented a special Paul Harris Award to Felicia Monaco for her work in successfully expanding the program to include Derby this year. The program also featured musical performances by the Derby High School Band and a stirring solo of "God Bless the U.S.A." by Valley Chamber of Commerce President Bill Purcell with musical accompaniment by Rotarians Joe Shapiro and Rosemary Allen.
For many, however, the highlight was the reading of the individual names of all the Heroes by several Rotarians from the Club. You can see all the names by clicking here.
Dominic and Bill lead a sing-along of God Bless America with all those in attendance to end the program.
Some other photos: