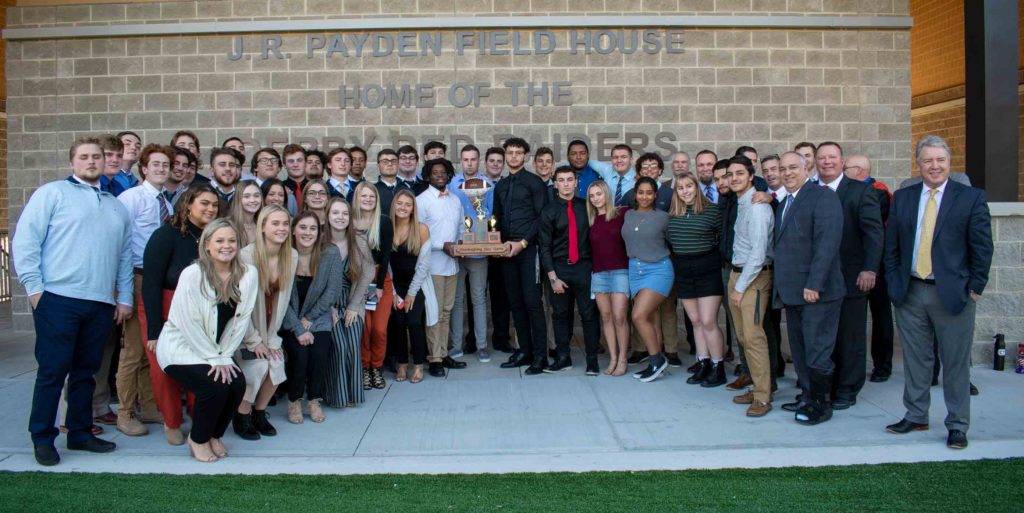 The 2019 Thanksgiving Football Luncheon will go into the books as one of the most memorable in the history of the event whose origins date back to the late 1920s. This year's luncheon for senior football players and cheerleaders from Derby and Shelton High Schools was held in the Great Room at the spectacular new J. R. Payden Field House in Derby. The field house is the centerpiece of Derby's incredible new athletic complex at the Ryan Athletic Complex. Earlier this year Derby completed work on the field house and new synthetic football/track & field and baseball/softball fields thanks to a state grant and an exceptionally generous donation by Joan Payden in honor of her father J. R. Payden – a 1915 graduate of Derby High School who also played in the first-ever Thanksgiving Day football game between Derby  and Shelton way back in 1914.
Opening remarks from Tom Wilson and Ed Sheehy.
Ed Sheehy served as master of ceremonies for the event and regaled the audience with stories of games between the ancient rivals spanning more than 100 years. Before the program started and during lunch, the attendees saw a slideshow of highlights from luncheons and football games over the last twenty years. Coaches Jeff Roy of Shelton and George French of Derby introduced the seniors from their schools and spoke briefly about their seasons. However, the real highlight of the luncheon was the introduction of the guest speakers from each of the schools. Eric Dripchak, a 2006 graduate, was the Shelton speaker and Mike Kreiger, a 2015 graduate, was Derby's speaker. Ironically, the were both successful quarterbacks for their respective teams who went on to college and entered the finance field.
| | |
| --- | --- |
| | |
| Mike Kreiger – Derby Speaker  | Eric Dripchak – Shelton Speaker |
The buffet luncheon was catered by the food service for the Derby schools and there were a lot of smiling faces and full stomachs! Thank you.
The two teams met on Derby's new field for the first time on Thanksgiving morning and Shelton won 35-0.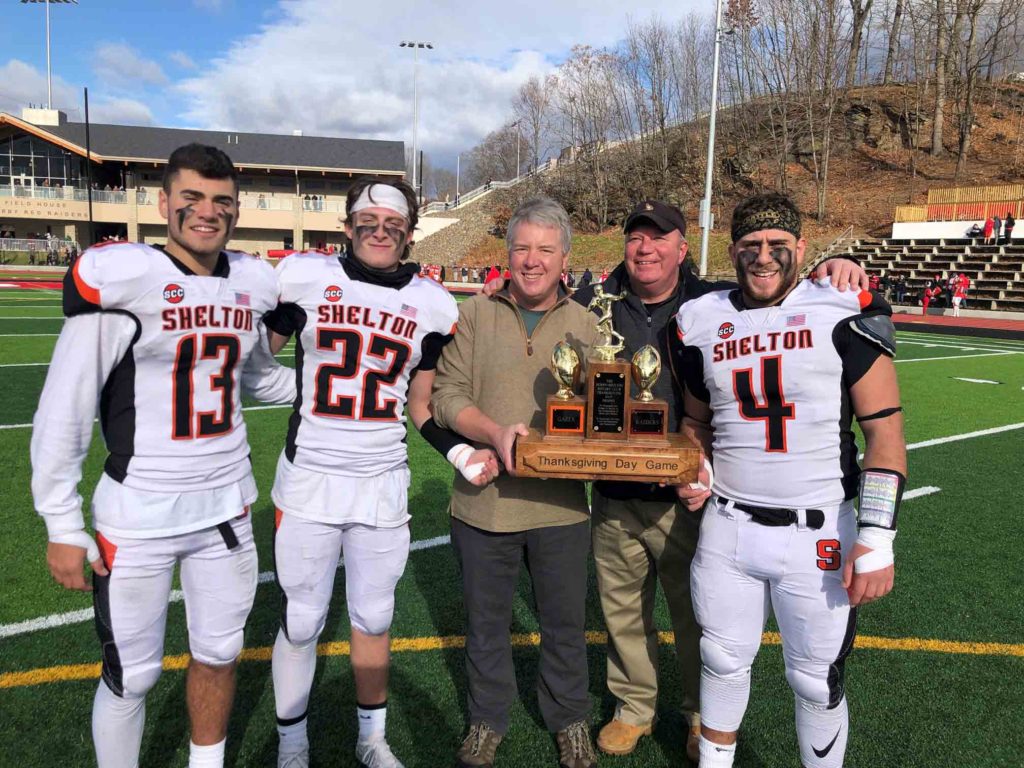 Rotary President Tom Wilson presented the Rotary trophy to coach Jeff Roy and his captains following the game. With the win, Shelton now has 10 wins and will retain permanent possession of the trophy.