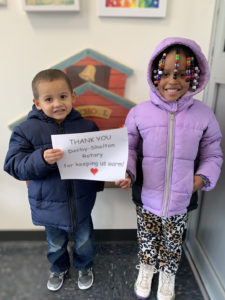 Derby-Shelton Rotarians continue to brighten the lives of others, and this time its kids. Just in time for the start of the winter cold, Rotarians have once again participated in a program that purchases and supplies attractive winter coats for kids. Rotarians have participated in Operation Warmth which is run locally by TEAM, Inc. for years. This year, the Club purchased 60 coats.
We received this nice thank you note from Jamie Peterson who is the Director of Early Childhood at TEAM:
"I want to extend a BIG THANK YOU to you and the Derby/Shelton rotary on behalf of the children and families in our early childhood program. The Family Support staff have distributed the coats and the families have been so touched by receiving a brand new, high quality, warm coat. So many of the children come into school under dressed during the cold months and often we see parents layering sweatshirts or using coats with broken zippers. The opportunity for the recipients to have a warm, reliable coat, truly gives parents a sense of relief.
I have attached a photo of two of the many children who have received your wonderful gift this year. One of the children in the photo relies on public transportation daily and as a result endures long waits at the bus stop. This jacket is a vast upgrade from what they were wearing just weeks ago.
Thank you again—the staff, families and children are beyond grateful for all that you do. With gratitude, Jamie"