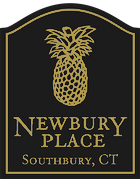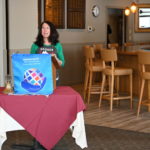 Derby-Shelton Rotary Club's efforts to support efforts to eradicate Polio got a boost due to the holiday spirit this week. At Rotary's annual holiday meeting, Jen Champagne announced the very successful results of a "Polio Shopping Day" at Newbury Place in Southbury. For the last couple of years, owner Lynne Bassett Perry has held a very special holiday shopping day in which she donates a portion of the day's sales to the Derby-Shelton Rotary Club to support the Club's ongoing commitment to Rotary's efforts to eliminate Polio worldwide. This year's donation to the Club amounted to more than $600.
Established in 2004, Newbury Place is a Connecticut landmark boutique gift shop located in a 150-year-old vintage mill. They get visitors from all over CT; Westchester County, New York; and beyond and it is a favorite stop for many Derby-Shelton Rotarians as well.
They carry a curated selection of gifts, jewelry, women's clothing and accessories. They also provide complimentary gift wrapping and believe very strongly in local philanthropy. Their support of Rotary is just another example of their strong focus on helping the community that's been very loyal and good to them.
The Club also paused to do a little holiday celebrating of its own after a busy couple of months of their own community efforts with warm coats and shoes for kids, sand buckets for seniors, dictionaries for third graders, and a major fundraiser with Liberty Bank to raise money for area food banks. So they enjoyed a holiday meal together and played a few games that even provided an additional $50 for Polio Post.
Merry Christmas and Happy Holidays from all of us at Derby-Shelton Rotary.