"Beekeeping in Ethiopia"
Global Grant GG1744326
 International Rotary Club, Bees for Development Trust UK, Cambridge South, Barrie, Millom and Gondar Fasiledes District Rotary Clubs, Derby-Shelton Rotary and others
Bees for Development Ethiopia
Bees for Development Ethiopia since its establishment, as one of its approaches is working with a number of like-minded institutions to support the livelihood of poor resource communities and Natural resource management. To this end currently, BfdE in collaboration with Global Rotary have been implementing a project called Beekeeping in Ethiopia. The project supported 100 landless youth in beekeeping skill training and the provision of minimum inputs to startup their beekeeping activities.
Bees for Development Ethiopia is a local Non-Governmental Organization with a registration number of 2753 has been established in 2012 and operating various projects in the Northern part of the Country, Amhara region. The organization is mainly focusing on promoting environmental friendly apiculture development with poor households and rural youth to alleviate poverty and creation of job opportunities.
Bees for Development Ethiopia from the beginning are working closely with likeminded institutions, organization and professionals in the sector of beekeeping and natural resource management. To this end, the organization in collaboration with Global Rotary clubs implemented a project called "Beekeeping in Ethiopia". This project is implemented in Ligaba Kebele, Dangila District of Amhara Region, Ethiopia. 100 landless youth (48 females) targeted who have limited resource to make life. Before the start-up of project implementation, sensitization training was delivered to project beneficiaries at Dangila Town in collaboration with Woreda agricultural office. During the training session the very first impression were created to the beneficiaries about the beekeeping project and its intended activities. The result of the training session shown that, the targeted beneficiaries was committed to engage in to the beekeeping practice by believing that beekeeping could change their livelihood and have potential to be additional source of income to support their livelihood.
The project managed to buy one bee colony in the open market and the beneficiaries themselves buy another one bee colonies and make them two bee colonies. (one man carried two bee colonies using long stick) They transported two bee colonies using one long stick and carrying one in front and one behind. See the above photos how they are transporting.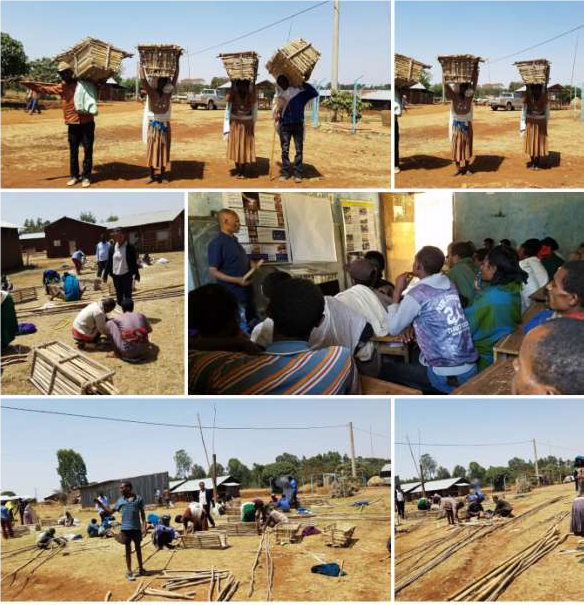 The training was given with the main objectives of creating skill of colony transferring of bee colony from traditional hive to the transitional/Top bar hive. The training was both technical and theoretical and Was given at Ligaba Kebele by dividing the beneficiaries in to two groups to make the training manageable and enhancing trainees active participation during the entire training hours. A total of 98 participants were participating on the training and it was given by BfdE community beekeeping trainer and Dangila woreda live-stock development office 6 beekeeping experts. As the training culture of BfdE, all the trainees have constructed their own top bar hive and already got the hive ready for transferring of new bee colony in to.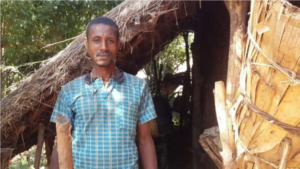 WondieYeneabat, Beginner beekeeper, possess 3 traditional beehives (one supported by the project and others are purchased by his own interest following his interest to increase the number of bees)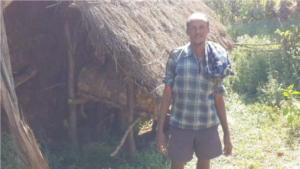 YaregalSime, beneficiary of the project and he owns 2 traditional beehives (he add one based on his interest to scale up the activity)