Though weather delayed it for two weeks, the Derby-Shelton Rotary Club Installation of officers for 2019-2020 finally took place at Brownson Country club on July 11 and a great time was had by all present.
Outgoing president Jen Champagne started the program by presentingPaul Harris Awards to Cindy Fitch, Judy Gulish and John Daniel. For all three, this represents mutliple Paul Harris recognitions with Daniel now having received six.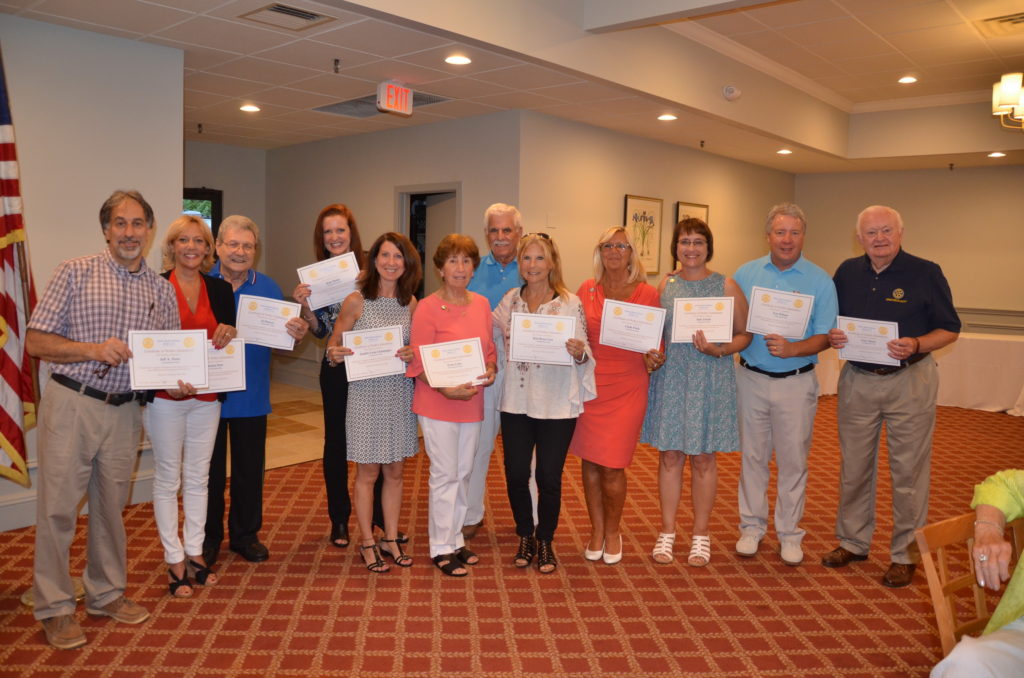 She then presented Perfect Attendance awards to 15 Rotarians who had perfect attendance during the 2018-2019 year. The number of total consecutive years of perfect attendance is shown in parentheses. They included Ernie Luise (26), Gary Sochrin(23 Kate Marks (16), Al Patuzzi (7), Kim Ryan Caro (7), Cindy Fitch (7), Jeff Forte (6), Judy Gulish (3), Jen Champagne (2), Carolyn Dowd (1), Troy Adcox (1), Tom Wilson (1), Stever Balogh (1) John Scott (1) and John Zseller (1).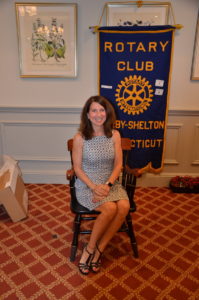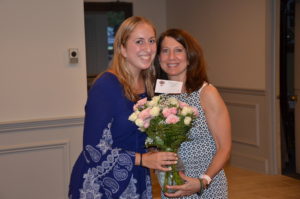 Attention then turned to the accomplishments of the past year as Jen gave her "farewell" address as president in which she highlighted some of the extraordinary achievements of the past year. Then it was time for the club to thank and acknowledge Jen for here leadership in making it such a great year. Club Secretary Jeff Forte did the honors in presenting Jen with her gavel, president's pin and the very special Hitchcock Chair that is a Derby-Shelton Club tradition. Thank you Jen for your hard work, dedication and enthusiasm during the past year. Jen's daugher Amy made the evening just a bit more special by presenting her some special floweres accompanied by brief remarks about how proud she is for her mother's achievements.
After a break for dinner, it was time to install the new slate of officers headed by President Tom Wilson. Derby-Shelton member and Assistant District Governor Cindy Fitch did the honors by swearing tom in and presenting him with his president's pin.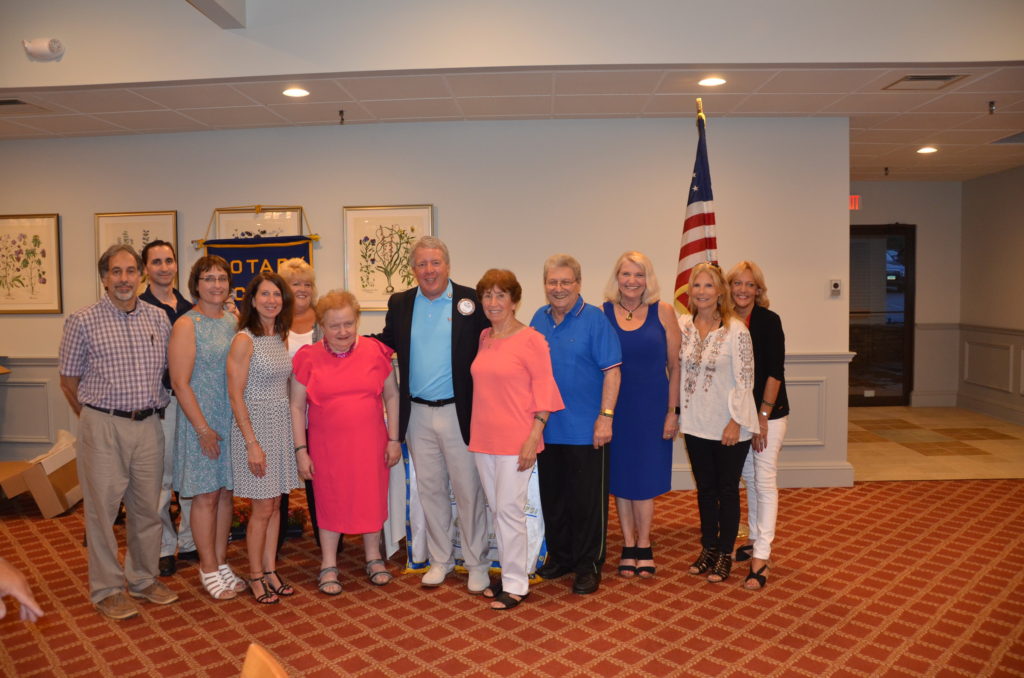 Tom gave some brief remarks about his goals for the year which are really the club's goals for the year and then he introduced his officers and cabinet for the year. In addition to Tom, the leadership team includes:
President Elect – Shawna Valillo
Vice President – Betsey Lombardi Doane
Past President – Jen Champagne
Treasurer – Judy Gulish
Secretary – Jeff Forte
Committee chairs include:
Youth – Jen Champagne
Foundation – Ernie Luise
Club Service – Al Patuzzi
Engagement – Carolyn Dow
Shelton Day – Carolyn Dow & Drew Scott
Vocational – Mary Ellen Samatulski
Seargent-at-Arms – John Zseller
Membership – Justyna Janucik
Community Service – Kim Ryan Caro
Historian – Troy Adcox
Hoptoberfest – Linda Holmes-Hannon