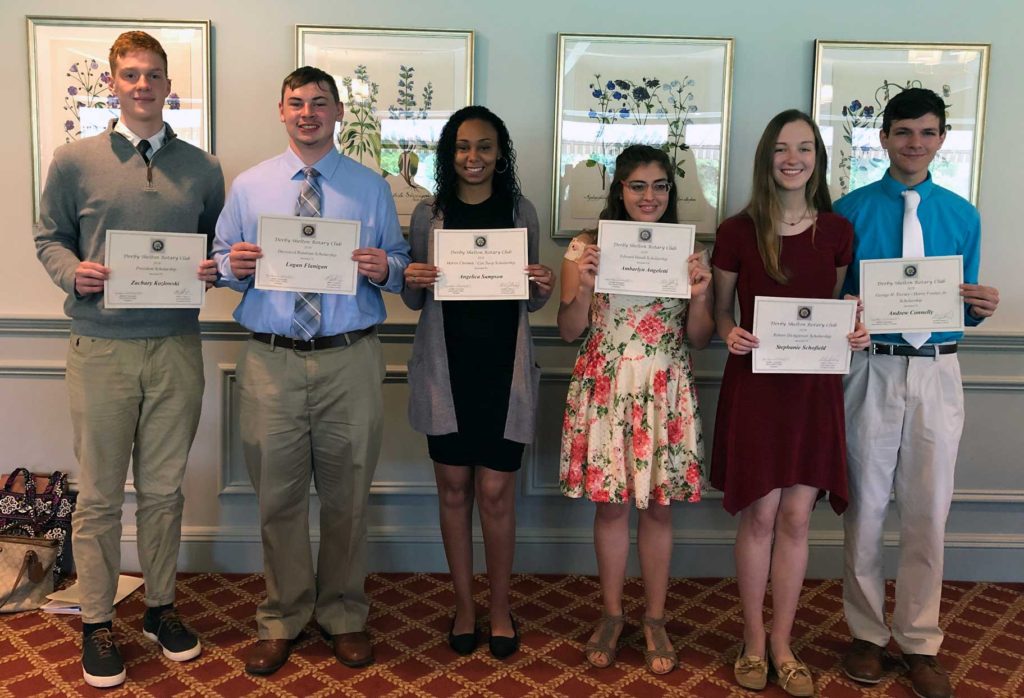 (L-R) Zachary Kozlowski, Logan Flanigan, Angelica Sampson, Ambarlyn Angeletti, Stephanie Schofield and Andrew Connelly
Derby-Shelton Rotary is pleased to announce the winners of its 2019 scholarship program for students from Derby and Shelton High Schools. The Club offers a wide variety of scholarships highlighted by this year's Chromik/Turaj Scholarship to Derby's Angelica Sampson and the Tierney/Fowler Scholarship to Shelton's Andrew Connelly. Their scholarships are for $8,000 paid over their four years in college. Sampson will be attending Sacred Heart University and Connelly will be going to Ohio University.
Xavier Ibrahim was Derby's Presidental Scholar winner for $1,000 and will attend American University. Zachary Kozlowski won the award at Shelton High School and will attend UMASS-Amherst.
There were three $1,500 scholarships. Ambarlyn Angeletti of Derby received the Handi Scholarship and will be attending CCSU. Logan Flanigan of Derby will be receiving the Deceased Rotarians Scholarship and will be going to SCSU. Stephanie Schofield of Shelton is going to UCONN and has received the Dickgiesser Scholarship.