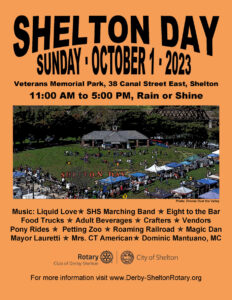 Shelton Day 2023 was on October 1st from 11 AM to 5 PM at Veteran's Memorial Park, 38 Canal Street in Downtown Shelton.
Under the leadership of Shelton Day Chairman Joe Shapiro of the Rotary Club of Derby-Shelton, his committee, all the Rotarians, and all the other volunteers the event took place under sun-drenched skies with summer temperatures that helped to dry out a field soaked by the week's heavy rains. Thousands of people came out to enjoy a bonus weather day for early fall. 
Live music included Liquid Love, a Freddie Hubbard tribute band featuring Dave Livolsi, Dan Donofrio, Mike Godette, Greg LaPine, Darren Litzie, and Tyger MacNeal. 
Eight to the Bar, a popular six-piece swing band (Eighttothebar.com) will play from 3:00 to 5:00 pm.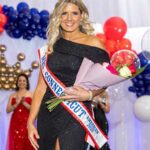 Mrs. Connecticut American Liza Lee Gambino was in the Rotary Tent and also spoke briefly and introduced Mayor Lauretti at noon.
Bad Sons Beer Company, Jones Winery Wines, and White Hills Distillery Bourbon, as well as coffee and hot cocoa were available for purchase at the Rotary Beverage Garden.

Food/drink vendors included: Bark & Hearth, The Cinnabomb Mini-Donut Factory,  Little Kernels Kettle Corn, Paradise Island, Italian Ices of CT, Little Kernels Kettle Corn, Streetside Hotdogs, Howe Beasty Burger, SweetNess Bites, TexMex Fusion, Small Food for Colossal Kielbasa, Chops Taco, The New Haven Pizza Truck, TexMex Fusion, Valley Jim's Soft Serve, and Aquarion Water.
Vendors included: Absolutely Healthy Living Center, Advanced Window Systems, AK Home Signs, All About Handmade, Al's Woodshop Creations, AT & T, Avon Products, Lenore Kalotai, B Cause I Soy So Candles, Bare Slate, Bark & Hearth, Bark Avenue Pet House, Beaty, Henna Orange, Best Buddies, Bunny Village Child Care & Development Center, Carey & Guarrera Real Estate, Chase, Color Street – Outspoken Nails By Lisa, Creations by Lady D, Daisy-Bella, David Deutsch, Designs by Debbie, Drones Over the Valley, Echo Hose Auxiliary, Extreme Foam Sports, Ferrara Family Dentist, FloraCreate, Friends of the Shelton Animal Shelter, Friends of the Shelton Libraries, Fun Haven Novelty, Gaelhawks Shelton High School Marching Band, Gideon International, Godiva's Affordable Jewelry, Happie Kimmie Designs, Harmony on the Sound Chorus, Helping Hands Family, Henna by Jada, Humanity Home Care, Leaf Guard, Legends of Fear, Mik's Mix, Moye Photography & Arts, Naugatuck Valley Council of Governments, New York Life, Old Redding Farm, Paradise Island Small Foods, Planer Bee Apiary, Power Home Remodeling Group, Renewal By Andersen SNE, Roaming Railroad, Row House Monroe, Ruth's House, Scarpa Enterprises, Senior Insurance Consultants, Sense of Empowerment, Shelton Democratic Town Committee, Shelton Economic Development Committee, Shelton Republican Town Committee, Shelton High School Robotics, Sky Blue Designs, Southern CT Chiropractic, St Joesph Church Pro Life Group, Super U FUNdation, Sweet Cheeks Face Painting, Sweetness Bites, Team Inc, The Megs Artisans, Tres Naturels, and Valley Karate LLC
Here are some pictures of our vendors in action:
Shelton Day 2023 Vendors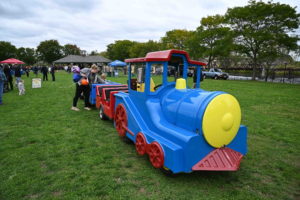 For the younger audience, Roaming Railroad, pony rides, and a petting zoo were available.
"I love our Shelton Day festival which we have every year. It's fun for the whole family… Seeing everyone enjoy themselves is so rewarding," said Kim Ryan-Caro, President of the Rotary Club of Derby-Shelton.