Derby High vs. Shelton High School
Silver Turkey Award Winners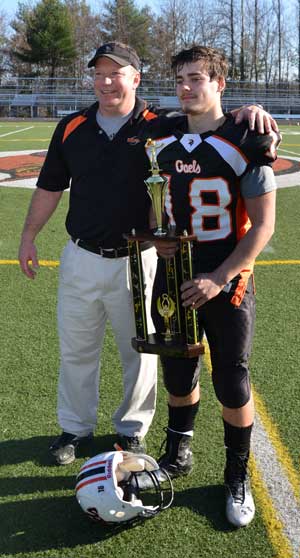 Shelton QB Mark Piccirillo stands with Coach Jeff After collecting his Silver Turkey Award. He is the first sophomore to ever be selected.
The annual Derby/Shelton Football game doesn't have a Most Valuable Player Award. Instead, it has a tradition all its own in the form of the "Silver Turkey Award" which has been presented every year since the defunct Suburban News first presented the award. The tradition is now carried on by The Valley Times.
The award has been given 44 times so far with Shelton players winning 26 times to Derby's 19. Only eight underclassmen have ever won the award, and Jeff Schultz is the only repeat winner having pulled off the feat in 2006 and 2007. Running backs have dominated the award having won the award 19 times. Quarterbacks are next with eight winners. Shelton players had won the award for seven straight years and ten of the last twelve, until Derby's Ray Kreiger broke the streak in 2011. The seven year streak is the longest by either team in the history of the award.
We want to thank Bill Pucci, editor of the Valley Times for providing the listing.
Silver Turkey Winners
Year
First
Last
Position
School
Class
1967
Mike
Carroll
QB
Derby
Senior
1968
Nick
Serdenitsky
LB
Derby
Senior
1969
Frank
Baczek
QB
Derby
Senior
1970
Danny
Allen
RB
Derby
Senior
1971
Dennis
Wanzie
RB
Shelton
Junior
1972
Rick
Uluski
WR
Derby
Senior
1973
John
Pagliaro
RB
Derby
Senior
1974
Dave
Krill
QB
Shelton
Senior
1975
Mark
Cramer
QB
Shelton
Junior
1976
Tom
Biga
RB
Derby
Senior
1977
Ron
Diotalevi
LB
Shelton
Senior
1978
Kerry
O'Connell
C
Derby
Senior
1979
Bob
White
LB
Shelton
Senior
1980
Rick
Dunne
DE
Derby
Senior
1981
Bob
Orchano
RB
Derby
Senior
1982
Jim
Stephan
RB
Derby
Senior
1983
Walt
O'Shea
DB
Shelton
Senior
1984
Jeff
Roy
QB
Shelton
Senior
1985
Mike
Bucci
RB
Shelton
Senior
1986
Tom
Oko
RB
Shelton
Senior
1987
Greg
Pettinella
WR
Derby
Senior
1988
Steve
Anderson
DB
Shelton
Senior
1989
Scott
Demarco
C
Shelton
Senior
1990
Jason
Palmieri
RB
Derby
Senior
1991
John
Eason
RB
Shelton
Junior
1992
Mike
Potkay
WR
Derby
Junior
1993
Jemal
Baskins
RB
Derby
Junior
1994
Kevin
Ranger
RB
Shelton
Junior
1995
Steve
Darby
DT
Shelton
Senior
1996
Henry
Alicea
TE
Derby
Senior
1997
Mark
Novack
RB
Shelton
Senior
1998
Gene
DiGiovanni
LB
Derby
Senior
1999
Kofi
Wilson
RB
Shelton
Senior
2000
Mike
Curran
RB
Shelton
Senior
2001
Tim
Samoskevich
RB
Shelton
Senior
2002
Adam
Manning
WR
Derby
Senior
2003
Joe
Czarnecki
TB
Shelton
Senior
2004
Semil
Desai
QB
Shelton
Senior
2005
Eric
Konopka
RB
Shelton
Senior
2006
Geoff
Schultz
RB
Shelton
Junior
2007
Geoff
Schultz
RB
Shelton
Senior
2008
Doug
Cummings
DB
Shelton
Senior
2009
Paul
Picirrillo
WR
Shelton
Senior
2010
Frank
Camerino
QB
Shelton
Junior
2011
Ray
Kreiger
QB
Derby
Senior
2012
Mark
Piccirillo
QB
Derby
Sophomore

Back to Derby/Shelton Rotary