Rotary Officers
2014-2015

President

Cindy Rinaldi
President Elect

Kevin Bishop
Vice President
Drew Scott
Secretary
Douglas LoMonte
Treasurer
Al Patuzzii
Click here for a full list of officers and committee chairs

Contact us:
Derby/Shelton Rotary Club
P.O. Box 224
Shelton, CT 06484
203-567-0252
E-mail Us
Rotary Turns to Scholarships
It's that time of year when college acceptance letters are in the l, and it's time to continue the search for scholarship assistance -and the Derby/Shelton Rotary Club has an extensive scholarship program for students in Derby and Shelton High Schools.
Before talking about our own scholarships, we urge students to also consider the scholarship programs offered by Rotary District 7980 which includes Derby/Shelton Rotary Club. The District has three separate scholarships (Global Grant, Service Above Self and Peace Fellowships. You can find out more about each and download the applications for each here. Anyone interested in applying will need the endorsement of a local Rotary Club such as Derby/Shelton.
On the local level the Derby/Shelton Club also has our own program with scholarships ranging from one year at $1,750 to a four year $10,000 scholarship. You can learn more about each of the scholarships here. The actual application will be available shortly.
SAVE THE DATE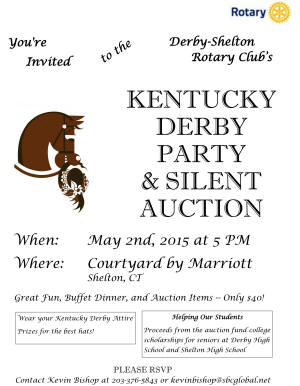 Kentucky Derby Auction for Scholars
Saturday, May 2nd from 4:00 p.m. until 9:00 p.m
Courtyard by Marriott in Shelton
Auction Donation Form
Auction Donation Receipt
Business Solicitation Letter