Derby/Shelton Rotary Club
Derby-Shelton Rotary Does a Home Makeover for History!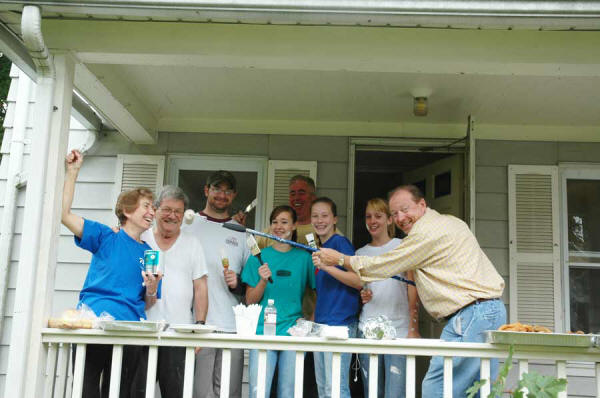 Can it be this much fun??
Click here for more pictures
The Derby Historical Society is the latest organization to benefit from a Derby/Shelton Rotary Community Project as a group of members along with three members of the Shelton Interact Club descended on the Society's new administrative headquarters to give it a complete makeover as the Society moves its records and history collections into the new building.
The Society purchased the building a year ago in hopes of creating an administrative center that will also be used to house much of the Society's collection of historical artifacts freeing up the historic David Humphreys House as a living history center and classroom. the new building (Axon House) but needed to add additional lighting and electrical outlets and completely paint the interior rooms before the staff can begin to move in.
The idea of working with the Historic Society came from Rotary President Dave Grant. Rotary members Jack Walsh, Bill Miller and Dave Grant, Jr. are all members of the Society's Board of Directors. Walsh is President of the Derby Historical Society. All three spent the entire day as part of the Rotary work crew.
The work was accomplished on Saturday, October 3, 2009, and the Derby/Shelton Rotary Club and the Shelton High School Interact Club are proud to support their important work.

Back to Derby/Shelton Rotary