Derby/Shelton Rotary Club
Seniors Get Sand/Salt for Winter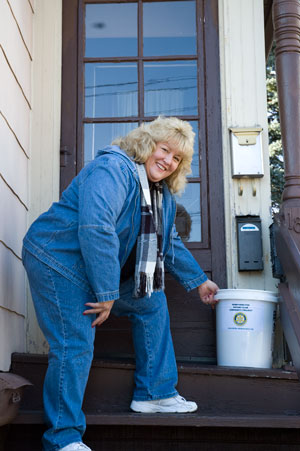 Linda place the first bucket on the porch of a Valley senior
Senior citizens in Derby and Shelton will find traction on their property during snow and ices storms this winter quite a bit better this winter thanks to a great community service project of the Derby/Shelton Rotary Club. The Club recently delivered more than 50 five-gallon buckets of a sand/ice mixture to seniors in both towns for their use. Rotary is doing this as a pilot project this winter, but will expand it during 2009-2010 if it proves successful.
We want to thank all of the local Rotarians who gave their time (and muscle!) to this great project.
Play the video to see the latest Derby/Shelton Community Service Project which will help to keep our senior citizens safe this winter.

Back to Derby/Shelton Rotary