Derby/Shelton Rotary Club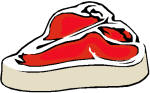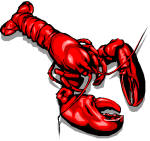 2nd Annual Steak and Lobster Bake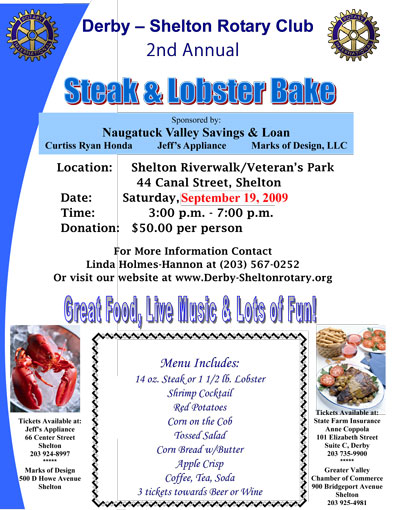 Check out year 1:
1st Annual Steak and Lobster Bake

A great New Community Event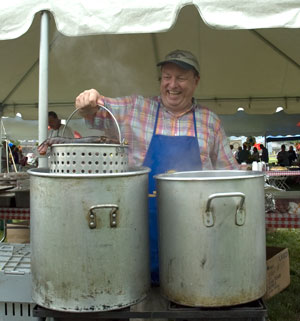 Dave Grant was the master of the lobsters!
Click here for photo album.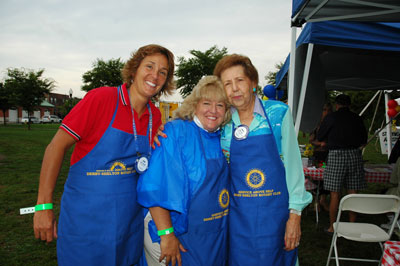 Annie, Linda and Mary had reason to be happy!
An event that seemed in jeopardy only hours earlier because of torrential rain and high winds turned in to a major new community event under bright sunny skies as the derby/Shelton Rotary Club staged its First Annual Steak and Lobster Bake on the fantastic Shelton Riverwalk. The event which will eventually raise the money needed to build a community pavilion on the Riverwalk was a major success as over 300 people showed up to feast on lobster and steak prepared under the direction of master chef Dave Grant.
The carefully orchestrated event which was the brainchild of Rotary President Linda Hannon-Holmes is the first step in a multi-year effort to raise the funds to build the pavilion on the popular Riverwalk. The building of the pavilion will coincide with the City of Shelton's effort to expand the Riverwalk as far as the Ousatonic Dam.
You can see how much fun the event was by looking at our photo album here. Mark your calendar for August 1, 2009 for next year's event.
The Rotary Club would like to thank our patrons, sponsors, and volunteers for making this such a successful event. A special thanks goes to our "dunkees"!

Back to Derby/Shelton Rotary