Derby/Shelton Rotary Club
District Governor Spreads Her Message
A message for the "home" club!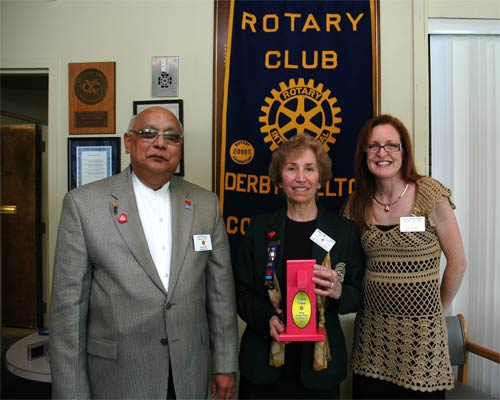 AG Rupi Rupwani, DG Ernie Luise & President Kate Marks
The visit of the District Governor is always a special day for any local Rotary Club, but this year's visit was special at the Derby/Shelton Rotary Club as District Governer Ernie Luise came home to visit her own club and spread the word on the district's goals for the year and the role of the local club. Assistant District Governor Rupi Rupwani from Naugatuck introduced the new District Governor in "royal' fashion before Ernie laid out her agenda and hopes for the upcoming year. She praised Derby/Shelton member John Scott for a Clean Water donation that through matching from Rotary International has turned into a $45,000 effort!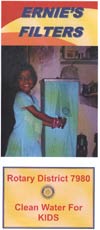 She thanked local members Jim Connery, Al Patuzzi, Lorrain Bukowski, Ed Sheehy and Bryan Lizzotte who are serving in a variety of position at the District level this year, and invited everyone to join her at next year's Disctrict Conference at West Point.
One of the major themes of Ernie's tenure is going to be Clean Water for Kids program which is being implemented District wide. Clubs throughout the District are being encourage to raise funds to purchase bio-sand water filters. These water filters are inexpensive, require no electricity or chemicals and have no replaceable parts. Ernie has challenged clubs in the District to help provide clean water for 120,000 school children in India. She brought along her little bird-house like model which had a convenient opening for the collection of donations - and before the meeting was over, the Club had raised enough to purchase 4!
Click here for a slide show from Ernie's installation as District Governor

Back to Derby/Shelton Rotary