Derby/Shelton Rotary Club
SHELTON STUDENTS SPEAK ON CONFORMITY AND MEDIA RELATIONS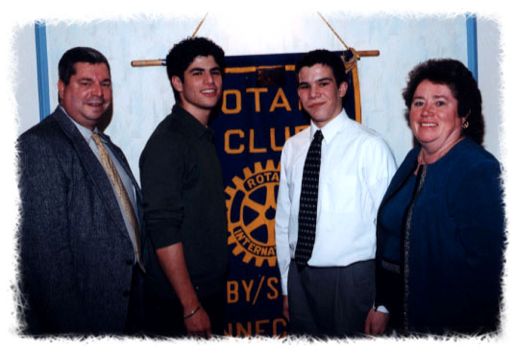 Ron Barisano, Greg Shiferman, Michael Quartuccio and Bev Brown
Photo courtesy of Fred Ortoli
Students from the Shelton high school interact club competed at the Derby-Shelton Rotary club speech contest. The speech contest is part of a district speech contest being conducted by many Rotary clubs across the state of Connecticut. The winner of the contest will represent Derby-Shelton at the district conference in Newport, Rhode Island where the top student from all clubs will present their speeches.
The theme for the speech was the Rotary four way test which asks 1. Is it the truth? 2. Is it fair to all concerned? 3. Will it build goodwill and better friendship? And 4. Will it be beneficial to all concerned?
Shelton high school junior Greg Shiferman spoke about the topic of conformity versus being an individual, while junior Michael Quartuccio spoke about the media's disregard for truth and lack of fairness by exploiting their personal lives.
Rotary board member Ronald Barisano who coordinated the event said, "both young men were exceptional speakers and did a great job. Michael Quartuccio will be representing the Rotary club in Newport, Rhode Island. Either young man would have represented the club well."
The Rotary club meets every Thursday at Connie's restaurant in Derby and interested individuals can stop in to talk to a member about joining. The Rotary club distributes over $10,000 in college scholarships to students in Shelton and Derby high school, conducts the annual Shelton day in the fall, and the CT Loves to Read programs in the elementary schools. Rotary will be conducting an auction on Sunday, April 29 at the Ramada Inn in Shelton with the proceeds going towards college scholarships.
---

Back to Derby/Shelton Rotary