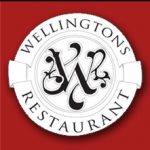 During the month of January, The Derby-Shelton Rotary will be holding its regular weekly meetings at Wellington's Restaurant in Shelton. Brownson Country Club, the site for the rest of the year is closed during the month of January. Wellington's is very close by at 51 Huntington Plaza. The meeting time remains 12:15. The price for the meal will be $20 with a choice of 4 options that include coffee and dessert:
beet salad with goat cheese and grilled chicken
penne alla vodka
panko chicken cutlet with an arugula salad
tomato mozzarella salad
Restaurant staff will take orders when members arrive and the business portion of the meeting will be held while orders are being prepared.