Derby/Shelton Rotary Club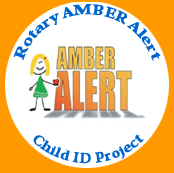 In case of emergency.
If you are anywhere in the county with your child and your child becomes missing. The first thing to do is call 911. Provide the dispatcher with the following information:
l Where – City, Street location
l When – fifteen minutes ago etc.
l Details – Abductor description, car description etc.
l Your child's description, from the AMBER Alert Child ID card
l 911 personnel will immediately notify local law enforcement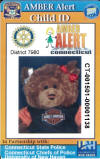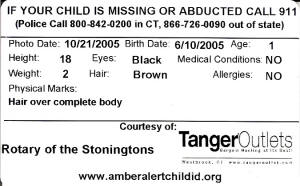 Amber card front & back (Click images for larger versions)
Provide local law enforcement your AMBER ID card and any additional information requested. The photo and information may be scanned.
Tell them your child is in the AMBER Alert database. Point out the AMBER Alert ID number and the emergency telephone number. Note: This number is for law enforcement use only!
When local law enforcement deems it appropriate, they may declare an AMBER Alert and will contact the national database for your child's information.
Law enforcement personnel may issue an official AMBER Alert through the existing emergency communications network to local police agencies, broadcast, TV, cable and other appropriate media. This may include release of your child's photo ID image and other key information.
The Rotary AMBER Alert Child ID card provides important current information to local and state law enforcement designed to aid in the safe recovery of an abducted child. Keep it with you at all times. If you lose it, there is no information on the card that will endanger your child.
Update your child's photo annually at Rotary AMBER Alert Child ID events. Infants should be updated more often.
To locate a list of Rotary AMBER Alert Child ID events that are currently being held go to the
Danbury Rotary Club website. www.danburyrotary.org
Soon there will be a statewide website listing events all across the state.

Back to Derby/Shelton Rotary